Shiny Rustic | Texture and Reflection
Mixed Media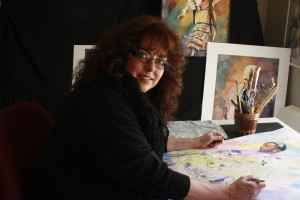 Want to add the WOW! factor to your watercolor paintings? Then come study with Laurie. She will share with you how she achieves the drama and intense color that make her art spectacular and exciting. In this workshop you will be using Laurie's same limited palette in both watercolor and liquid acrylics. She will be teaching portrait skills and techniques such as composing portraits, wet into wet value blending and creating textures. Laurie will be instructing in techniques for finishing as well as learning to use a mouth atomizer. Participants will complete one full-sheet portrait as well as a project of their own choosing (still life, portrait or abstract). Plan on lots of fun and exciting new skills in limited palette painting.
Grab hold of this opportunity to study with this gifted teacher and take your paintings from drab to fab!
07/20/2020 – 07/24/2020