Q: How do I dress?
A: Our summer temperatures range from an unusual high of 80 degrees to a low of mid 40's. It is recommended that you bring a light jacket, rain gear, casual clothing and comfortable shoes. Classrooms are cool in the mornings. You may wish to have sweatshirts or long sleeves and long pants. Layering is recommended. Restaurants are casual; night life is minimal.
Q: What does the tuition cover?
A: The tuition covers 3 to 5 days of class from 9 a.m.-4 p.m., reception, coffee breaks with snacks. Some workshops are 4 days, the details of the lengths of workshops are covered in the individual pages.
Q: What if the class is cancelled?
A: Sometimes a class has to be cancelled for various reasons – instructor ill, family problems, not enough students, etc. If this happens a full refund including the $50 registration fee will be made. Students are advised to purchase refundable airline tickets to avoid loss in case of a workshop cancellation. We will notify you as soon as we can or you can call or email us to be sure.
Q: What else is there to do in Cloudcroft?
A: There are many summer activities. Here is a small list of things to do.
*Golfing on the highest courses in North America
*Many interesting shops
*Horseback riding
*Several restaurants from BBQ to elegant
*Hiking and camping in the Lincoln National Forest
*Tennis and roller blading
*4th of July Arts and Crafts Festival
*Sacramento Mountains Historical Museum
Within Driving Distance: In Alamogordo – Alameda Park Zoo, New Mexico Museum of Space History and IMAX Theater. West of Alamogordo – White Sands National Monument on Highway 70. South of Cloudcroft – National Solar Observatory, Sunspot, NM.
Q: What is the Library address?
A: 90 Swallow Place Cloudcroft, NM 88317
GPS: Latitude: 32.958556 | Longitude: -105.742655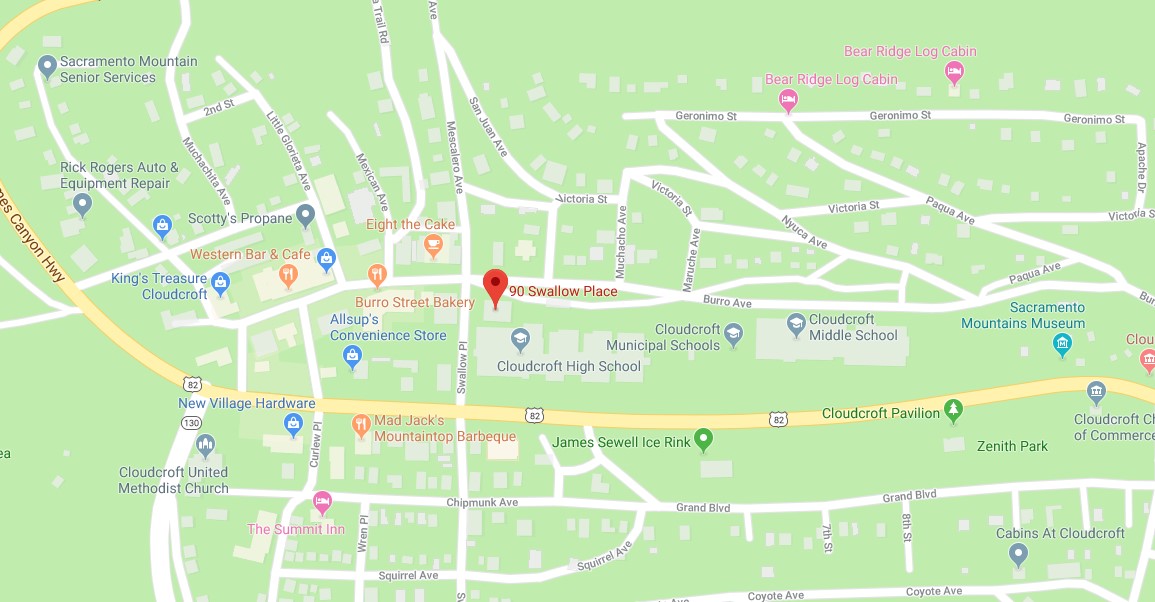 The following is a "Top Ten" list of tips and things to do to have the best experience possible.
Drink lots of Water. Cloudcroft is located at a stunning 9000 feet above sea level. The altitude can cause mild headache and fatigue the first few days. One way to prevent this is to come to the mountain well rested and hydrated. Drink extra water the days prior to your arrival and continue through your stay. It may be inconvenient when traveling but it is well worth it to feel your best.
Be prepared. Carefully study the supply list and make the required purchases for materials needed for the workshop. If you have questions contact the instructor and visit with them. You can find the contact information on the artist website. If you are unfamiliar with certain materials play around with them before you arrive. YouTube is an excellent source for demonstrations. Cheap Joes, Dick Blick, Daniel Smith and others all have great customer service people who are there to answer questions on products, paper and applications. Be informed.
Come with an open mind and heart. Cloudcroft is a lovely little village in the cool pines of New Mexico. There are wonderful activities like hiking, biking, shopping and site seeing in the area. There are several grocery stores in Alamogordo, 16 miles down the mountain, as well as a movie theater. Visit the Cloudcroft Chamber of Commerce website or go in person and get first hand information to meet your vacation needs and interest.
Choose your lodging to meet your needs. Cloudcroft has many options for lodging. There are 3 Bed and Breakfast, several hotels, one historic full-service lodge with a restaurant and golf course, condominiums and home rentals. Explore your options with a realtor, on the internet or through the Chamber of Commerce. There are also numerous campgrounds in close proximity for tents, trailers and motor homes. Make it a vacation of your dreams.
Communicate. If you have questions about the workshop policies, registration or the facilities please send us an email, give us a call or drop us a note. The partners at CAW are always available to answer your questions or help you find your answer. If you have a question about the class, instructor, supplies or what will be covered please contact the artist.
Expect to be Wowed! The instructor will have for you a 5-day course intended to expand your knowledge and expertise. You have come to experience their agenda for you. Trust that whatever your skill level there will be great amounts of information and techniques for you to explore. No one will master skills or create masterpieces in the time allotted. It is a workshop to experience and take home and make your own in your studio. Sit back, relax and let the instructor guide you. Listen intently, take notes, and learn from the instructor as well as other students.
Have Fun! Do your best to leave the concerns of life at home behind. You have worked hard to get to Cloudcroft and deserve to enjoy it to the fullest. Turn your phone to vibrate or better yet leave it off and immerse yourself in the world of art.
Be Fearless and without Ego. This was quoted by a wonderful artist, Rich Gallego, and is relevant to having a great workshop experience. Come knowing that you have nothing to fear. The instructors, partners and fellow participants are supportive and a safe place to explore and learn. There is no need to be concerned about how others will perceive your work since everyone is there to try new things. Each participant is at a different place in the journey! No fear, No ego.
Check and Double Check. Keep your confirmation information and double check the dates and other info for accuracy. We try our very best at accuracy but really appreciate you helping keep things straight. We have an orientation on Sunday night before the workshop where you can meet the class, instructor and have most questions answered about the facility and area. It's a great time to bring in supplies and be ready for the next morning. It is optional.
Know How Appreciated You Are!!! The partners of CAW and the artist value you beyond measure. We know the effort and sacrifice you make to come to Cloudcroft Art Workshops and we are committed to helping you have a good experience. We love art and you!!
Artists Featured in 2020